A picTTure captures a moment in time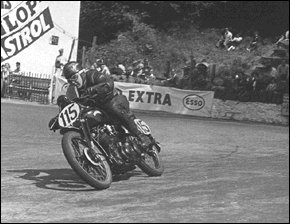 (Photo ref: 1953 TT/1151 IP)


The Vincent Black Shadow was one of the few bikes of the early 1950s that could leave a black tyre mark on acceleration and even then it took a determined rider to do so.

Pictured here on the first lap of the 1000cc Class of the 1953 Clubman's TT, Dick Madsen Mygdal has determination written all over him, and no wonder, because starting last man at number 115 he had to shred a lot more rubber and use every one of the Shadow's 55bhp to catch the field in front. This he did to good effect, taking the lead on the second lap and holding it until he was brought off by a slower rider at Brandywell. This put him into a hospital bed for the rest of his TT fortnight (which was also his honeymoon).

By 1953 the 1000cc Class of the Clubman's was monopolised by the Vincent V-twin for there was nothing on the market to match its genuine 125mph top speed in road trim. The 1000cc Ariel Square Four did not like to be treated as a racer and the other big twins of the day from BSA, Triumph, AJS, Matchless and Royal Enfield (varying from 600 to 700cc) didn't fancy going out to play with the Vincents on the Mountain Course. Unfortunately, the Vincent monopoly spelt the death of the 1000cc Clubman's Class - it was dropped after 1953 - and the 350 and 500cc classes quickly went the same way after they became swamped with BSA Gold Stars.

Now living in retirement in Oxfordshire, 1953 was Dick Madsen Mygdal's only race on the TT Course although he went on to a successful short- circuit career on sponsored Nortons. His son, David, has a much greater liking for the Mountain Course and has been a regular and successful competitor here for many years.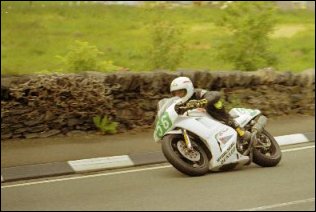 Dave Madsen Mygdal at Stella Maris in the 400cc class of this 2000 Lightweight TT.
After challenging Geoff McMullan for the lead, Dave's race ended on the last lap at Ramsey
(picture ref: 2000 TT 17/3 FF)