A picTTure captures a moment in time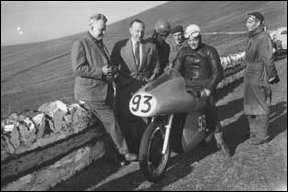 1954 TT123 FF


In the 1950s, it was a tradition that the TT winning machines were put through their paces by journalists after the race.

On the Mountain Mile we see 1949 350cc World Champion Freddie Frith astride Ray Amm's 1954 Senior TT-winning 'Proboscis' Norton. To his right, with pipe, stands Motor Cycling's editor Graham Walker, Joe Craig, Norton's race manager stands alongside Graham. Harry Louis of 'The Motor Cycle' stands to the left.

Freddie's countenance seems to register approval for the machine!