Joey at Quarter Bridge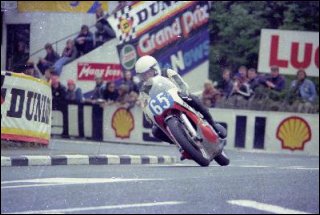 Joey at Quarter Bridge on the first lap of the 1976 Junior TT,
his first TT Course ride. (1976 137FF)


But this was not his first ride - can I put forward the following for the perusal of statisticians and motorcycling historians. The record books show that Joey took part in 97 TT races and 2 MGPs. But what the official ACU result book for 1976 shows is that he was listed as a retirement in the Production TT, which took place on Saturday June 5th, two days before the Junior Race.

Danfay Distributors, who were the Yamaha importer for the Irish Republic, had entered Chas Mortimer and Billy Guthrie on a RD400 in the 500cc class. Danfay were agents for everything Yamaha; bikes, recorders, organs, if it was made by Yamaha, Danfay were the agents. Chas Mortimer changed to ride (and win) the 10-lap race on a RD250 with Bill Simpson, father of Ian.

Joey took over the berth vacated by Mortimer, even though I can find no photographic evidence of either of them riding the bike in practice, having trawled through over a thousand negs for 1976. Came the event, and Guthrie retired on the first lap, which is how Joey comes to be listed as a retirement in his first TT, without ever getting aboard!

Thus the record books, which show 99 rides, should now read a round 100, with a victory rate of 26%.

The Manx Museum will be holding a photographic tribute to Joey for six weeks from mid-June. Many of the main TT trophies will be on display, the first time they have been seen away from the Prize Giving ceremonies for many a year. This exhibition will still go ahead, as will the stamp issue and a set of Manx Telecom Phone Cards. In connection with this exhibition, there will be a collection box for donations to the Joey Dunlop Injured Riders Fund.