Joey Dunlop Tribute from the TT Website
As Reported in The Sun
Tragedy ...

Joey was killed in race only weeks after pals urged him to quit sport

By JOHN ROBERTS

DUNLOP TRAGEDY

MOTORCYCLING legend Joey Dunlop was killed in a crash in Estonia yesterday - less than a month after friends had begged him to quit the sport.

The tragedy happened in a torrential downpour in a 125cc race around a road circuit in Tallinn.

A spokesman for the Estonian event said Dunlop had just won a superbike race but went off the road on a corner in the next and crashed into a tree, dying instantly.

Only last month, at the Isle of Man TT races, some of racing's top names had pleaded with the 48-year-old Irishman to leave the sport he had dominated for 25 years.

Former world super bike champion Carl Fogarty said then: "I think Joey should pack it in because I can see him being badly hurt. No one wants to see a legend killed."

And, last night, Dunlop's former rival Phillip McCallen said: "I retired this year because I thought it was the right time to get out.

"We all felt perhaps Joey had gone on too long and his reflexes might not have been as good as they were. "I am just shattered that the legend is no more."

Retirement was clearly on Dunlop's mind last month when he said at the Isle of Man: "The TT has been good to me over the years and now, if I didn't want to race, I could just park the bike and not compete.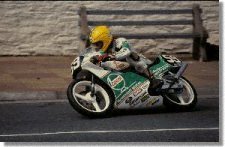 "I feel good at the moment but I am getting on. I forget the number of times I have been told it's about time I stopped racing.

"I will have to retire soon, but there are a few more racing days in me yet."

Dunlop, from Ballymoney, County Antrim, had nothing to prove in the sport.

He won a record 26 TT races and was world champion for five consecutive years from 1982 to 1986.

But instead of leaving the sport to concentrate on running his pub, Joey's Bar in Ballymoney, he took the ill-fated trip to Estonia.

William Joseph Dunlop, OBE, MBE, the greatest TT rider in history, was born in Ballymoney on February 25, 1952. He began his racing career at 17 on a Triumph Tiger Cub.

But it was in 1976 that he first tried to conquer the Isle of Man's mountain course on a 250cc Yamaha.

He scored his first victory the following year, on a 750cc Yamaha in the Jubilee Classic, after being shown the best lines around the hair-raising circuit in a car the night before.

In 1981, he became a works Honda rider to kick-start his most successful period.

But his career went on hold after a crash at Brands Hatch in 1989, though it was hard to keep him away.

He even turned up at the TT festival that year on crutches, pleading to be allowed to race.

It was the only TT he had missed since 1976. During his career, he suffered a catalogue of injuries.

They included a cracked pelvis, broken collarbone, and the loss of part of his wedding ring finger.

But he could never resist the pull of TT racing, particularly in his later years.

After notching three more victories last month, he said: "I'm aware every rider is out to beat Joey Dunlop. If they can get by me, it leaves most happy but that's what motivates me."

At the same festival his major rival, David Jeffries, 27, said: "As he has shown us all - most of us half his age - you just dare not write him off.

"The Isle of Man is like his own personal stage.

"And there is undoubtedly only one star on it. Him."

Dunlop was awarded the MBE for his motorcyling exploits and the OBE for charity work.

He leaves a widow Linda and children Julie, Donna, Gary, Richard and Joanne.