Joey Dunlop Tribute from the TT Website


William Joseph Dunlop MBE and OBE
A Tribute To "Yer Maun" The Greatest Road Racer Ever.


Tributes to 'The King of the Road'

Tributes have been pouring in for Joey Dunlop, the motorcycling legend who died on Sunday 2nd July in Estonia. The bar owned by Mr Dunlop in his home town of Ballymoney, County Antrim turned into a shrine as Northern Ireland mourned one of its greatest sporting heroes. Wreaths and flowers built up steadily throughout the Sunday evening as people stopped to salute the memory of the five-times world champion.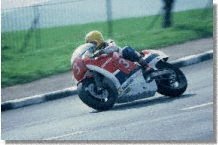 "I can hardly believe it," said one tearful woman as she placed a bunch of flowers on the windowsill outside Joey's Bar beside the railway station. "To think he was so close to the end of his career and he had to go like this," she said.

A much-loved, unassuming character, Dunlop was hailed as an ambassador for his sport. Some who visited his bar were too distressed to speak.

Ballymoney mayor Bill Kennedy said his heart went out to Dunlop's family: "I know them all personally and this is a really, really sad day." North Antrim Assemblyman Ian Paisley Jr echoed the sentiments saying: "This is a bitter and sad loss."

Dunlop's death - in a race in Estonia - also shocked Stormont's First and Deputy First Ministers, David Trimble and Seamus Mallon, who sent their deepest sympathies to his family.

Motorcycling broadcaster and writer Harold Crooks, who knew Dunlop for 30 years, said: "Joey Dunlop was possibly the world's greatest motorbike rider of all time. "He was also a terrific ambassador for Northern Ireland and one of the greatest gentlemen you could meet. "He was so quiet and unassuming about his fame, it was almost unreal. "I don't think he ever thought he could die in a race but it is always on the cards."

Sports Minister Kate Hoey paid tribute to Dunlop, saying: "This is terribly sad news. I am shocked. Joey was a wonderful ambassador for his sport and for Northern Ireland. "He showed true dedication and commitment and will be deeply missed by all motor-cyclists around the world. My sympathies go to his family. I so enjoyed spending time with him at the recent TT races in the Isle of Man. His victory there thrilled us all. He died doing what he really loved."

Sports Minister Michael McGimpsey said: "I'm shocked and saddened to hear of the untimely death of this great Ulsterman, who I was talking to only two weeks ago. "I do not have full details of the circumstances but my thoughts are with his wife, Linda, and his family, and my prayers go out to them."

'King of the Road'

In Ballymoney, messages placed with the flowers expressed a sense of irreplaceable loss within a closely knit, unassuming rural town. One said: "Our hero". Another: "King of the road forever".

One man said the racing champion was Ballymoney's finest ambassador and a privilege to have known. "Fame never changed him. He was always the same way. A real Ballymoney man and not ashamed of it," he said.

Another recalled him as a quiet character whose shy nature belied his genius on the roads. "He was happy enough to talk all day about bikes. But not about himself. He just loved to race."

Dunlop began racing in 1969 and had been a factory Honda rider for the past 18 years. Married with five children, he was awarded the MBE for his motorcyling achievements and the OBE for charity work.

These were taken from extracts From Various News Services