Hans Otto Butenuth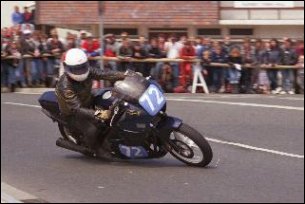 Not a BMW! Taking Parliament Square on a Honda
in the 1988 Production B race (1988 110ff)


Born In Mengede, a suburb of Dortmund, on April 1930, although In latter years his Competition Licence carried the date of birth April 1 1936. Don't ask ..........

In 1945, aged 18, he went to work in the RAF Workshops in Dortmund, eventually training as a fitter/mechanic and working, still with the RAF, in Koln and Hamburg. A friendly RAF Regiment Sergeant taught him how to ride a motorbike - thus from the same origins came his life's work and his life's passion. Another result was a liking for all things English - at the drop of a hat, he would deliver a rendering, in full, of "Tipperary"! In later years, he became a heavy plant fitter, pursuing this trade until his retirement in 1986, aged 56.

After marrying Margot, in the early sixties, they lived first of all in central Dortmund and then in an apartment in Bodelschwing, a small village about 8 km outside the city. His first motorcycle, in the early fifties, was a D-Rad, followed by a Rudge Ulster and then an ex-Wehrmacht R12 BMW, a 1940 750cc side-valve. When the notion to race took him, in 1957, he went out on an NSU Max "from the scrapyard" - in his three races on this, he had two finishes in the top 5, but the Max was not the answer!

For 1958, a modified BMW R51/3 ohv 500 was used with some success, and indeed served him well for the next three years. By 1960, he had his National Licence, and the BMW was joined by a Manx Norton rolling chassis with a 250 NSU Sportmax engine installed. That year's results earned his International Licence, so in 1961 he was on his way. The old BMW went, replaced by a 350 Manx Norton, which he loved dearly. Both it and the 250 NSU/Norton Special were campaigned in Germany that year, but his thoughts were turning to the TT...............

As an aside at this point, it should be recorded that in the late fifties he passengered in an ohv BMW outfit for his friend Willi Kramer from Bremen - indeed, in later years, he was "Schmieraxe" to several well-known drivers, among them Georg Auerbacher, Heinz Luthringshauser and Arsenius Butscher. Nobody is completely sane..........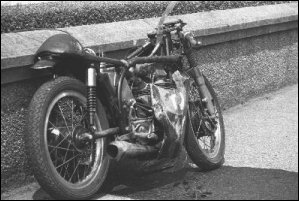 Bray Hill vs Manx Norton - Bray Hill won (1963 56ff)



1962 - first trip to the island.

The Norton was black-flagged for a loose footrest, while the NSU motor brought its breakfast up. 1963 wasn't any better. In practice, off-line at the bottom of Bray, the right-hand kerb bit his crankcase and left him, luckily, with only a broken leg. Mind you, he did do a bit of landscaping in one of the gardens on the left! Never mind - the "TT-bacillus", as he called it, had thoroughly infected him, and he was to compete on the island, with few breaks, until 1996.

Over these years, he raced an amazing variety of machinery, not only in the TT but also in Grands Prix and other Internationals all over Europe, with occasional visits to English circuits such as Mallory, Oulton, Snetterton, Cadwell & Silverstone and, later in his career, to the North West 200 and the Ulster Grand Prix.

This cannot he guaranteed as an exhaustive list, but among them certainly were: 350 & 500 Manx Nortons, 250 NSU Sportmax (a proper one), BMW ohc Rennsport (3 of them), 750 Norton, CB250 Honda, 450 "Hobu" (Honda twin), 250 Benelli single ("scrap bike - never finished a race"), R75/5 BMW, CB350 Honda, 250 Yamaha, TZ 500 & TZ 750 Yamahas, BMW R90S & R100RS, TZ 250 Yamaha, RG500 Suzuki, 600 Honda F2, TZ 350 Yamaha, 900 Egli-Honda, 600 Ducati F2, RSC 1000 Honda, 998 Kawasaki, VFR 1000 Honda, 600 Kawasaki F2, VFR 750F Honda, 1000 Krauser 4-valve BMW ("shit bike"), CBR 600 Honda and 640 & 660 MuZs.

The peak period of his career was probably from 1971 to 1976. In 1971 he was German 500 Road Race Champion, on his third BMW Rennsport - a bike that was at least 15 years old! Second in the title table was Ernst Hiller, on a three-cylinder Kawasaki. Ironically, when Hans-Otto obtained his first Rennsport, in 1964, it was an ex-Hiller machine! That same year, he rode in the Bol d'Or as a Honda France entry, teamed with Jean-Claude Chemarin.

During those six years, he brought to the TT full- or semi-works BMWs, his best results being 2nd in the 1974 Production TT 1000cc Class, and fastest finisher, with Helmut Dahne, in the handicap Production 10-lapper of 1976. On handicap, they were classified 5th overall but, owing to the strange "handicap" arrangement operated by the ACU, had to make do with the Class award and silver replicas.




Hans Otto with Margot (right).

Hans in flight: 1974 Production 10-lapper
(1974 172ff)


By the early 1990s, his racing was confined to his stable of BMW Boxers, 500, 750 & 1000. The only exception was the MuZ which he brought to the Singles TT, right up to 1996, his last year there. By then, tragically, he was all too well aware of the cancer which was to take him. 1997 saw him racing in Czecho in May (two second places on the 750) and early June (6th). Finally, he went to Assen with the 500 for the Classic Race at the Dutch GP Meeting on June 28. Sidelined by a broken driveshaft, he and Margot towed the trailer home for the last time.

During the night of August 19 1997 he died in his sleep, aged 67. A lovely couple, an amazing man. We, and the Isle of Man, will not see his like again.


Larry Devlin