Since its inception in 2013 the Classic TT has become one of the main draws in the classic enthusiast's diary. The combination of some of the world's most exotic machines, on the world's greatest road-racing course, makes for unbeatable spectacle.
And of all the events in the motorcycle diary, the Classic TT is, surely, among the most innocuous: it is not the TT and nor is it part of any other race series.
But the aftermath of this year's Classic has proved otherwise, following technical infringements and a torrent of speculative, accusatory posts on social media.
Here's the low-down: James Hillier, Dean Harrison, Jamie Coward and Horst Saiger had their machines stripped and dismissed on technical grounds after Monday's Superbike race.
An official statement regarding the disqualifications said:
 "The first three bikes in the Superbike Classic TT Race were selected for post-race eligibility checks. The machines that finished second (Dean Harrison - Silicone Engineering) and third (James Hillier - Greenall Racing) were found to have oversized engines. At that point the machines that finished in the next places were called for the same checks. At this point the machines of Jamie Coward (Mistral Racing) and Horst Saiger (Greenall Racing) were removed from the result by the respective teams, effectively disqualifying themselves."
For Greenall Racing's Saiger, the situation was not so cut and dry, however. He said:
"There's no prize money and no championship. 750s against 1300s, handmade high tech bikes against old standard bikes out of a shed, big teams with professional riders against absolute amateurs. To be honest I didn't take the whole thing too serious. I was just happy to have a good bike with a good team behind it, so I can ride safely around the Mountain Course."
He continued:
"I didn't know that my bike was out of regulations, but I didn't ask and that's only because I didn't really want to know! After the parc ferme my team boss Angus Greenall came to me and told me: Sorry Horst, you're out. 'Your pistons are 0,5mm too big. It was only a money thing as the 72,5 mm pistons would have been special parts and £40,000 whilst the 73mm are standard at £3,000 each.'
For sure it was not right and he could have used smaller pistons, but I think he didn't take it too serious as well."
James Hillier - also on a Greenall Kawasaki - posted his take on events on his Facebook page:
"For the record I was unaware of my bike being against the rule book yesterday. I took risks and tried my best for nothing.

Rules are rules and I would never intentionally break them. Apologies to the other competitors and my loyal sponsors. I will make up for it next year on a legitimate machine for a different team."
Greenall Racing said: 
"Being excluded from the results wasn't what we were expecting as in previous years, nobody had been stripped and we knew we had put together two of the finest and safest machines in the paddock."

"After last year's Classic TT, Greenall Racing agreed that we couldn't compete against the big Suzukis and Yamahas with our 750s and made the decision to run with the oversize pistons. We presumed that the other top teams wanting to be competitive had also gone down this route. As a team, we have always been led to believe that the Classic TT was about 'putting on a show' so that was our intention, along with trying to win the race, or at least be competitive."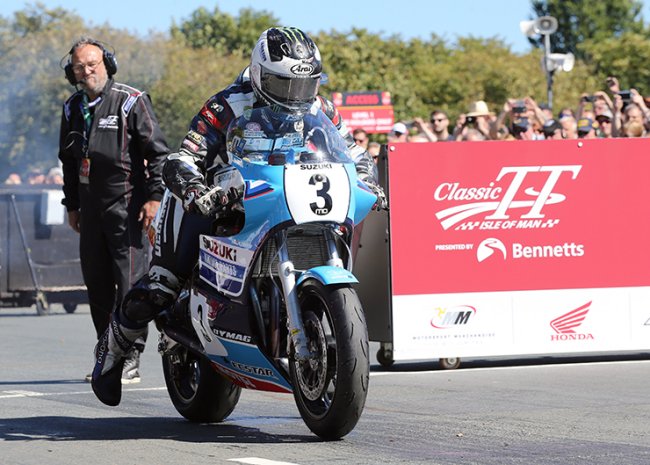 Michael Dunlop on the Team Classic Suzuki XR69
There is, indeed a section in the Classic TT regulations under 'Machine Eligibility' that states:
 "The organisers retain the ability to accept an entry for a machine that is not compliant with these regulations if in their view it will enhance the spectacle of the racing without giving a competitor an unfair advantage. Such requests must be made in writing prior to the closing date for entries and will be accepted or rejected on a case by case basis."
And it's this that Saiger draws our attention to:
"For me the Classic TT is a festival and a show, the regulations say everything."
TT boss, Paul Phillips, responded to the disqualifications situation by saying: 
"There's a lot of talk on the Internet about the disqualifications in the Superbike Race however there is considerable misinformation. We decided to carry out post race examinations in that class this year and some of the machines that were checked had aspects that were outside of the regulations and were disqualified. We advised the teams this would happen at the Technical Briefings at the start of the event. The responsibility to comply with the regulations lies with the teams and suggestions that they have been encouraged to cheat or given assurances that they wouldn't be checked in the past are nonsense."
Pivotal to this technical fall-out is the interpretation - or misinterpretation - of what the Classic TT is.
Indeed, the range and capability of motorcycles entering into a Classic Superbike race is vast. Some are original machines, others are new rebuilds based on older models. Dunlop's XR69 - on which he won the Superbike race - was a recently-built machine based on an early 80s model.
And there are reasons for using modern machinery to replicate originals: metal fatigue and reliability being perhaps the two biggest concerns with old technology.
The official line on the overall premise of the Classic TT is as such, according to Paul Phillips: 
"There is a major misconception from critics about the Classic TT in that they are thinking we are trying to replicate history but that has never been an objective. We are here to create an exciting spectacle that attracts visitors to our Island, investment from sponsors and coverage in the media. To date the Classic TT has done that in ever increasing numbers since its inception in 2013. The event is funded by the public purse and has to generate a return and contribute to the Island's visitor economy."
"The confusion with classic regulations stems from people's definition of whether a classic bike is original or not but we are not stating that the bikes have to be original. Our regulations are clearly defined despite what some of our critics will have you believe. We retain the right to allow machines outside of the regulations if we think that they will add something positive to the event, and as long as they don't materially affect performance but to date that dispensation has seldom been required."
The question now is to how teams will respond to this for next year's event. Watch this space.
For Phillips, he wants next year's event to build on the success of the last four Classic TTs He said: 
"The great thing with the Classic TT is that there is an almost unlimited amount of history to celebrate and build content around going forward, especially when it comes to the off-track entertainment. I can't tell you what the plans are for 2017 at the moment, however we will confirm them later this year at Motorcycle Live and we have some really interesting and exciting ideas!"
Indeed, let's not forget what the Classic TT is all about: noisy, smelly wonderful race machines of a bygone era. And all on the world's greatest racing circuit.