---
SEELEY CLOSES IN ON SUPERSTOCK CHAMPIONSHIP - Malcolm - 11-08-2009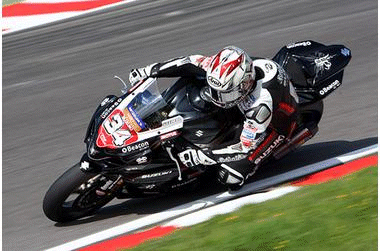 Alastair Seeley's phenomenal run of success continued yesterday in the British National Superstock 1000cc class, taking his eighth consecutive victory for Relentless Suzuki on the 2009 GSX-R1000 at Brands Hatch in Kent.

Seeley's display of dominance started in the opening free practice session and the Carrickfergus man was never headed in any of the qualifying sessions all weekend. In the two-part race that produced two red flags, Seeley led both in prolific style; setting a new Superstock lap record in the first outing; and actually dipping under the European Superstock record by almost a second.

Seeley now leads the National Superstock 1000cc Championship by 53 points with four races remaining on the 2009 calendar.

In the British Superbike Championship, an out-of-sorts Ian Lowry kept the best to last with a battling performance in Sunday's second outing, coming from 18th on the grid to take ninth place at the chequered flag. Lowry also posted a brace of 12th-placed finishes in races one and two, and the Moira man's bravery has pushed him up to sixth place in the Championship standings.

Atsu Watanabe, who was working on a number of new settings over the weekend on his GSX-R1000 Superbike, scored points in race two and eventually finishing 15th.



Ian Lowry:



"I had nothing left in that last race; I was actually seeing double on the last lap. I did get into the mid 27s in race three which was faster than the likes of Tommy Hill and Karl Muggeridge in front of me, but it's hard to come through from 18th on the grid. I must thank everyone in the team this weekend, as they have been very supporting, knowing that I wasn't well. We now have a three-week break so I need to go home and get myself sorted out. We are up to sixth in the Championship and with the strength of the 2009 GSX-R1000; fourth place is certainly not out of our reach."



Alastair Seeley:



"Philip and I made a plan this weekend: to check out when the tyres were at their best and that's what I did in the first part of the race. I'm not sure if it will stand, but we posted a 1:28.6s lap that would have been good enough for top 15 in the Superbike class. In the second part I just made sure I was smooth on the throttle and hit every apex. My GSX-R1000 was awesome this weekend again and very stable all around the Brands Hatch circuit. We're closing in on the Championship and we also have a healthy lead at the top of the table, so yes I'm pleased."



Philip Neill - Team Principal:



"That was another phenomenal display from Alastair on the 2009 GSX-R1000. The bike actually looked like it was on rails all weekend. It is almost surreal to still be unbeaten in the class, but Alastair's level of professionalism and focus, to his credit, is at an all time high. It is unrealistic to expect him to remain unbeaten all year and now that we are entering the final run in, winning the Championship is our main priority.

"Ian's results in the opening two BSB races were a little under power from what we have come to expect from the series' top rookie, but given that he was battling with a heavy flu, his race three results was a brave and gutsy display. He showed great maturity and it was very pleasing to see him dig deep for a top ten result. His lap times got consistently better all weekend and he has firmly established himself as the top rookie in the series. We must now ensure he is 100% healthy and in top physical conditions for the remaining rounds of the season.

"Atsu was experimenting all weekend with different settings that will prove beneficial to both Suzuki and our team in the long term, but to his credit he did improve his lap times at Brands over the weekend. He must now keep moving forward in the final few races."




British Superbike Championship points:



1 Leon Camier [Yamaha] 374.5 points;
2 James Ellison [Yamaha] 261;
3 Stuart Easton [Honda] 218;
4 Karl Harris [Honda] 111.5;
5 Glen Richards [Honda] 103;
6 Ian Lowry [Relentless Suzuki] 101.




National 1000cc Superstock:



1 Alastair Seeley [Relentless Suzuki] 200 points;
2 Steve Brogan [Honda] 147;
3 Richard Cooper [Yamaha] 101;
4 John McGuinness [Honda] 83;
5 Luke Quigley [Honda] 81;
6 Adam Jenkinson [Honda] 68.


---