Hilary Musson
My introduction to bikes was when I was 16, when my dad bought me my first bike, which was a Triumph Tiger Cub that was obtained from none other than Freddie Frith himself, whom I knew quite well.

At this time I was courting John, who also had a bike, and as you do, we ventured to Cadwell Park for a day at the races and that was it, I was hooked.

Some time later, the Batley MCC decided to run a ladies only race at Cadwell in 1969, and the temptation was too much. There were only 8 or 9 of us on all manner of machines, and I ended up 4th, riding John's Triumph Daytona.

Due to lack of interest no more ladies races were run, but my competetive instinct had got the better of me and in order to continue with my new found hobby I had to race against the lads, which was something of a rarity back then!

I shared the Triumph with John for a while, and he would do one race and me the next, but it soon became obvious that we really needed a bike apiece.

This introduced me to my passion:- 250cc Japanese 2 strokes, and I have tried them all, a Suzuki X7, an RD 250 Yam,an LC.

I competed in many club races and high speed trials, always on production machines, which I often rode to work and indeed to the meetings as well.

In 1974 & 75 I won the British Formula Racng Club 250 production championship and was 2nd in the Midland club's as well. The following year saw the introduction of the Avon Production series, in which I rode a 250 RD Yam, in the 250 class, John competing in the 500 class on a 350 with the likes of the late Phil Mellor and his brother Paul, and the IOM's own John Crellin.

I was to place 3rd in the championship, and actually won some prize money!

Gail was all of this time, attending the races with us,helping out in the office etc as a 10 yr old.

The following year in 1977, it became my desire to compete in the TT, having been to The Island several times on holiday, so I then had to set to work to gain my international licence.This was eventually achieved by competing in various nationals at Cadwell, Scarborough, Croft etc.

People insisted that I would never be accepted into the TT as since Beryl Swain took part in the early sixties there had been a ban on ladies. However, I proved them all wrong and in 1978 was accepted to ride in the World Championship Formula 3 TT.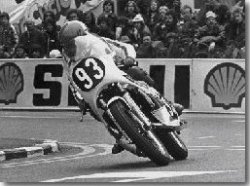 The TT would have been my 2nd choice to the Manx GP, however ladies would not be permitted to compete until 1989.

I felt honoured to be riding during the same year that Mike Hailwood made his comeback, and I even stood on pit wall speaking to him.

I finished my first TT in 15th place, one position behind John,there being 22 finishers.This was also the first time a husband and wife had competed on solos,and in the same race.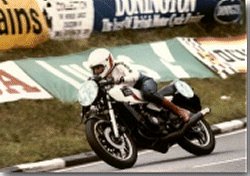 I went on to compete in the TT until 1985, and only failed to finish in 1979, when my machine let me down on the 1st lap.

I have never been sponsored nor have had any material help from anyone with the exception of a few visors from Bob Heath,and free TT accommodation from ex marshal, the late John Bullivant and his wife Diana and friend Penny in Peel.

One of my most treasured possessions,apart from my finishers medals, is a tape recording of my father talking to Mike Hailwood on a BBC radio phone-in, in 1978 or 79, when he was asked what he thought of women in the TT. He responded by saying he had watched me up on the mountain and was very impressed!

Since my last TT, I made an abortive attempt at the Classic Manx in 1989, on a hastily built T20 Suzuki, with a top speed of less than 100mph.I have to say that I do prefer modern machinery!

I have also won the National Sprint Assosciation 125 and 250 road legal championships in the early 90's.

Today, I still keep my licence going and I mostly do a few track days, particularly at my favourite short circuit, which is Donington.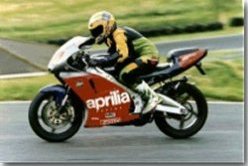 Nothing I have ever done has been in the name of publicity, contrary to the opinions of some, I don't have time for other hobbies, except keeping a few chickens, and my cats, in particular my dear deaf ,white Manxie, - Kipper!


Return To Rider Profile Index