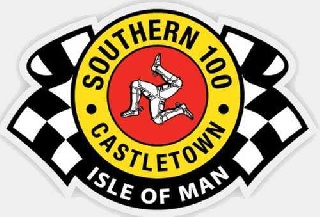 Monday 1st June 2020 should have been the main race day for the 32nd running of the Blackford Financial Services Pre-TT Classic Road Races, with eight races during the morning and early afternoon.
However as the Covid-19 Pandemic took hold and on the advice of the Chief Medical Officer informing the race organisers that it was unlikely that sufficient medical could be provided, along with the Chief Marshal confirming that it could well be a similar situation regarding marshals, Southern 100 Racing made the difficult decision to cancel not only the Pre-TT, but also the Silicone Post TT Road Races and the flagship event, the Isle of Man Steam Packet Southern 100 Road Races.
(The TT Races were cancelled shortly afterwards, then later both the Classic TT and the Manx Grand Prix.)
Prior to the cancelation of the Blackford's Pre-TT Classic Road Races, the race programme for this year had been agreed and the appropriate regulations and entry forms approved and sent out to competitors in mid-January, with the closing date set as 30th April.
Up to and including 8th March when the latest Race Committee Meeting was held to discuss entries a total of 170 entries had been received and accepted from 85 individual riders making the possibility of entries being oversubscribed certain.
The most popular class, as of that date, was the Junior 350cc race with 35 entries, closely followed by the Senior 500cc race with 30 entries and the 350cc/ 250cc Singles race with 27.
The ever-popular sidecar races were also looking promising with 11 crews accepted.
Three times winner in 2019, Jamie Coward was once again in for a busy time with four entries, hoping to go one better this year.
Six other competitors also had four races to contest; Dean Edwards (Hemel Hempstead); David Matravers (Taunton); Hefyn Owen (Chester); Peter Boast (Market Rasen); Alan Oversby (Bolton le Sands) double winner in the 850cc race and the Singles 350cc race in 2019 and Jeff Ward (Sandbach) who won the Quine & Cubbon Lightweight 250cc Race last year.
However, busiest of all, at the time of cancellation would have been Ballymena's Barry Davidson who had a total of six races to come under starters orders, the Lightweight 250cc; Junior 350cc; 850cc; Junior Superbike; Singles and Senior 500cc, some 44 laps in total!
Other regulars lining up on Castletown By Pass would have included Will Loder, Arthur Browning, Vic Haskell, Ewan Hamilton, Bob Dowty, Philip McGurk, Anthony Amber, Keith Shannon, last year's Singles 250 winner.
Sam Kinkead, Tim Poole, Gary Hutton, Steven Elliott, Gary Vines, Jamie Williams, Dennis Booth, Julian Tillotson, Edward Manley, and Dominic Herbertson.
Whilst Jim Porter was to have ridden his faithful Ducati 250 Single for a final time before taking early retirement from road racing, which he has now postponed until 1st June 2021!
Philip Boote and Jayne Morris (Stoke on Trent) were the first to enter the two Sidecar races this year, closely followed by Chris Wickett and Claire Duplock (Tavistock). Local crew Wally Saunders and Bob Dowty were also prompt with their entries, as were David Holden and Krishna Hanns (Perth, Scotland.
Yorkshire crews Howard Langham and Doug Chandler (York) and Tony Thirkell with Trevor Johnston (Thirsk) would have been duelling for the 'white rose' bragging rights!
Keith Walters and Alun Thomas (Neath, Wales) were in with a shout, as were previous winner Rutland's Nick Houghton, with Peels Chris McGahan acting as ballast.
Close neighbours Adam Pope and John Christophe (Chorley) along with Tony and Sarah Bannister (Leyland) completed the list at the time of halting the proceedings.
At the time of the decision to call of the Blackford's Pre-TT Classic Road Races there were still six-weeks before entries officially closed and our ever energetic race secretary, George Peach was in the throws of 'reminding' some of our regular competitors to get their pen to paper, including 18 times winner, Wirral's Mike Hose and from the same area Steve Ferguson. Welsh duo, Meredydd and Bob Owen, Blackpool's Alec Whitwell, Guildford's Tom Snow, Stockport's Adrian Kershaw to mention a few.
Double Yorkshire Sidecar winners from 2019, Rod Bellas and Danny Quirk were also expected to return, as was top of the sidecar winners with nine wins so far, fellow 'Tyke' Eddy Wright, after having taken a sabbatical in 2018 following a hernia operation.
One thing for certain, had today 1st June 2020 been a race day, the Paddock would have been buzzing with activity from first light, with the ladies and gentlemen of the club busy in the club kitchen, under the guidance of Cassie Watterson preparing the 'famous' Billown food selection, before the all-important technical inspection's took place prior to each race.
The Officials, Marshals and Medics and other vital personnel ensuring the Colas Billown Course was in first class condition as the roads closed for racing at 09.10am, the atmosphere growing along with the anticipation of the close, exciting racing always guaranteed on the 4.25-mile lap as the competitors line-up on the grid for the first of eight races, the Lightweight 250cc over six laps, 25.500 miles and wait for the lights to go out and the action to start.
Unfortunately for this year, all we can do is imagine what might have been and look forward to 2021 and all meeting up again for the Blackford's Pre-TT Classic Road Races which will be held on Friday, Saturday and Bank Holiday Monday 28th, 29th & 31st May.
It will soon be time start getting prepared!
(Photo courtesy of Barry Clay, shows Barry Davidson (4) who would have been one of the busiest riders in the Paddock in 2020)