TT Website Interviews - Dave Molyneux
| | |
| --- | --- |
| | Dave Molyneux is a Sidecar racing legend. The fastest ever Sidecar driver ever around the TT course, Manxman Molyneux is back at the TT bidding to reclaim the reins from the pretenders to his crown after a years absence. |

We spoke to the popular 'Moly' from his home in Reaby, about last season and his prospects for the coming year.

First of all Dave, can you confirm your plans for the forthcoming season?
At the moment, the plan is to do the TT, maybe the Southern 100 and some rounds of the Centre Championship at Jurby, along with the Jurby Road Races. Despite what's been reported, we're not having a crack at the Centre Championship; it's more to get the bike set up for TT week, and to get the mileage in really. We're not going to be leaving the Island to race at all this year; I'm going to concentrate on building the business back up, because with the World Cup I have been really busy for the last year, and I'd like to take the opportunity to get things up and running again.

What's the latest news on the team?
I'll be revealing who will be riding with me very soon: we've had an agreement for some time now, it's just a case of putting the finishing touches to it (I'll give you a clue - he's from the British Isles!) As far as the bike goes, we'll be running a green and white outfit in the colours of Quadrant Flooring, which belongs to a South African friend who has a house in the Isle of Man. He's bike-mad and really loves the Island, so it's great to be involved with him.

We're also receiving backing from Honda Britain as in previous years. We've got 2 brand new Honda CBR "SP" fuel-injected engines on the way. These are the first two of the type to be delivered to Britain, and are proper works engines, straight from the factory in Japan. The bike itself is an improved version of the TT bike we ran in '99: better streamlining, improved chassis, that sort of thing.

Looking back at last season, what is your assessment of your campaign in the Sidecar World Cup?
A bloody disaster. Things just didn't go right from the start. The engine was the main problem - I just don't think the Blackbird engine takes too kindly to being tuned. The crankshaft was too powerful and kept flexing within the chassis. We had to reinforce it with steel plates, but even that wasn't enough. In the end, we resorted to going down to a breaker's yard and buying a bog standard Blackbird motor from a written-off road bike.

When we got it, it was covered in oil and shite - allsorts. Once we slotted that in things improved, but we were so far down on horsepower compared to the leading machines, it was very frustrating. It was so late on in the season when we finally pinpointed what was wrong with the engine, that it was too late to do much about it, and in any case the budget would never have stretched that far.

You must take some satisfaction from the fact that you achieved some good results on a much lower budget than most of the established riders?
Not really, no. We were more frustrated than anything: being 40 HP down on most of the leading machines is really disconcerting. OK, we had a good result at Hockenheim, which is the fastest circuit in the series, but apart from that things were a disaster.

The World Cup machine is very different from the FII outfits generally used in British sidecar racing; was it difficult to adapt to the new bike?
It wasn't, no. Sidecars are very primitive things - there's nothing really technical about them, and at the end of the day, a sidecar is a sidecar. OK, the World Cup machine is much quicker than the FII outfits we use at home, but it only takes a couple of laps to "shakedown" and then it's just a case of riding as usual.

Do you think you will ever compete in the Sidecar World Cup in the future?
No, that's me now. I've just had enough of all the travelling and all the hassle that's involved with the world series. Steve Webster actually approached me to join his team for the forthcoming season, but to be honest I've seen a side of the Sidecar World Cup with the way it's run that I don't like, and I'm calling it a day on that front.

The sidecar crews are given quite a rough deal compared to the WSB guys. For example, moments after the South African round at Kyalami, we all had to pack our bikes up into a crate, along with all our spares, tool, kit, everything. And then we didn't see them again until a few days before the next round in Australia, so we were working like mad to strip the bike down and sort out any problems from the last outing. You always had to think about spares - in some of the poorer countries we raced in, there's nowhere to buy spares or even sidecar tyres. Some of the facilities we were accommodated in at certain circuits left a lot to be desired - Jurby Airfield had better amenities! To be honest, I just can't be assed going through all that again. I just want to enjoy my racing now. In the past, I've often been under a lot of pressure and enjoying my racing hasn't been the number one priority, so that's the aim now.

Your father was a sidecar racer of some note; did he actively encourage or discourage you from following him into sidecar racing?
He didn't really encourage or discourage me. He was killed racing at the Ulster Grand Prix in 1976, when I was only 14, so I was a bit young for racing. I suppose he influenced me in a way, because I doubt if I would ever have got involved with sidecar racing if my old man wasn't a racer.


Aside from your father, who have been the biggest influences on your career and why?
I remember sitting up at the Grandstand in TT week when I was a kid, watching my old man going out on a Thursday afternoon practice session. George O'Dell's machine was up there, really well prepared and looking great. I thought to myself "I wouldn't mind a bit of that!" George later went on to do the first 100mph lap in a sidecar, and I suppose because of that and because his machines always looked smart, he was a bit of a hero to me.

Do you have any views on improvements that could be made to the TT Races, with respect to sidecar racing or otherwise?
Nothing springs immediately to mind, no. I think a lot of people don't realise how good the TT is, especially for sidecar racing. The facilities are good (especially compared to those at some of the World Cup meetings), sidecar crews are treated well and the meetings are well organised. If I had to say something, I would say maybe the state of the road surface in certain places. It seems as if they resurface sections of the road that don't need doing, and then leave the places that are a bloody mess. Some years ago the state of the road on the exit to Quarry Bends was terrible: there were big cracks in the surface and everything. Eventually it was resurfaced, but it took a long time, and a lot of hassling the Clerk of the Course to get things moving.

Also, I think the second sidecar race would be better run on the Wednesday of race week. With the first race run late on the Saturday afternoon, it means you have to work like buggery on the bike if anything is wrong with it, which puts a lot of strain on the crew. I don't think it would be that much a hassle to move it to the Wednesday and run, say, the Junior race on Monday afternoon.

You are just 2 wins away from equalling the TT wins record of the great racers Schazu, Boddice and Saville. Will you be making a conscious effort to better that record?
It's not something that's in the front of my mind. I mean, it would be nice to better it, but if it happens great, if not, then I won't be too disappointed. More important to me is doing the first sub-20 minute lap on a sidecar. Myself and Craig (Hallam) came very close on the Thursday afternoon practice session in 1999. We pulled into the pits and my brother was like "Bloody Hell! You've just done 20m 1.8s. I was a bit annoyed because if I had realised how quick we were going, I could easily have broken the 20 minute barrier, but at the time we didn't realise what a flyer we were on!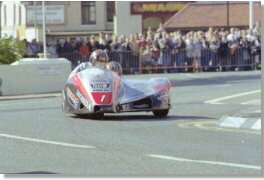 What were your views on the switch from 1000cc machines to purely FII specifications at the TT in 1990?
At the time, everybody (including me) thought it was a big mistake, that it would kill the sidecar class off. Of course at the time, we couldn't have foreseen how big 600cc racing was going to become, and that the general direction in which motorcycling was going to go would be away from two-strokes and towards four-strokes. Looking back now though, it was probably the best move for the sport, because the 1000cc machines were a bit of a handful around the TT course, and a well-prepared 600cc motor is just about the best tool for the job nowadays.

Some people have voiced the opinion in recent years that sidecars are becoming too fast around the TT circuit. What is your view?
Well, what can you do ? In 1994, rules were introduced reducing the carburettor choke size down to 32mm, which was a bloody stupid thing to do because it actually made the bikes go faster. The people who thought up the rule obviously didn't know what they were doing: a lot of tuners actually do this to make the bikes faster! That's one of the rules that's a bit crap in sidecar racing now, having to go through the engineering process to fit these 32mm restrictors, when they have the opposite effect to what was intended.

Short of reducing the cc again, which would be a complete disaster, there's nothing else they can do: a 400cc motor would never pull 2 people around the Mountain Circuit. They can't police stock engines, you know, straight out of a road bike - that's almost out of the question. It would be a good idea, but the machines wouldn't be a lot slower than what they are now - I'd still get around the TT Course at 110mph with a stock engine, so it would be a wasted exercise really.

Looking at it though, I've gone around at 113mph, Rob Fisher has gone around at 110mph and there's a few at around the 109mph mark, and the rest are a lot slower, so I think sidecars aren't outstandingly fast around here. When you compare my 113mph lap to the solos, which are lapping at 125mph now, I don't think there's much to complain about. Jock Taylor went round at 108mph in 1981, so we're only lapping 5mph quicker than he was 20 years ago!

Do you think sidecar racing receives enough exposure?
Well no, not really, especially when you see what MCN give the solo classes compared to the sidecars, for instance. Whenever I've won a TT race, they seem to give us a decent spread, but last year, when Rob Fisher done the double, all he had was measly little column in there. If it weren't for the local press, we'd get very little coverage at all: John Watty has followed what we've done with great interest over the years. So in that respect, it's a bit here and there really, but then you've got to ask "Does it deserve a lot?" At the end of the day, at least the sidecar class is a proper racing class, and there's very few proper racing classes left - they're built purely for racing and that's all there is to it.

Would you ever swap places with your passenger?
No! The only reason is because I'm just not interested in it at all, just like I'm not interested in racing solos. I've sat on the side before, but it didn't give me a thrill or anything, and it didn't scare me, I just thought, "Bloody hell, it's not my cup of tea", you know.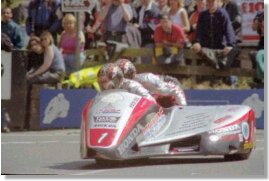 What makes a good sidecar team?
Trust. And when you lose that trust, you've got a crap team. It's very difficult to get that trust back once you've lost it, be it through a mistake on the driver or passenger's part or whatever. I've gone through a lot of passengers, and I make no bones about that. I won't take any shit, because at the end of the day, my neck's on the line as well as theirs.

A sidecar passenger can only ever be as good as the driver; the driver can usually struggle through with a crap passenger and still get the result. Having a good passenger obviously helps, but having that trust element between passenger and driver is the most important thing. When the passenger thinks he's better then the driver, then things can start to go wrong.

I think there's a lot of drivers around whose passengers maybe aren't so good, but they get the results because they trust their passengers. Although I have had a lot of passengers, the ones I've had have all been good - none of them have been bad, but once that trust has been lost, for whatever reason, it's very difficult to get back and be as good a team as you were before, so it's usually better to part company.

Who is the best passenger you have had during your career?
Karl Ellison. Karl and me were mates anyway before we raced together, so we knew and trusted each other. We could read each other very well and we made a good team. Unfortunately for us, Karl's circumstances changed - he got married and had kids, and he decided to quit the sport, but we're still mates.

Do you have any ambitions left that you would like to achieve?
One of my first ambitions was to make an ex-sponsor eat his words when he withdrew his support, citing "a lack of talent and the wrong attitude" on my part as the reason for the move.

I suppose doing the first sub-20 minute lap on a sidecar is a bit of an ambition, yeah. At the time, it wasn't a big ambition of mine to do the first 110mph lap. When we did it, I thought "Brilliant! I want to average 110mph now", which we did in the next race. When I missed the TT in 1997, then came back in 1998, a lot of competitors said I wouldn't win the TT on a Honda, because the engine wasn't up to it. That then became an ambition, and we managed to win the race. I've won races on lots of different machines, and each time you get a new machine, it becomes a bit of a thing that you want to win the TT on it, I mean it's easy to win on the same machinery all the time, but not so easy to keep winning on different machinery.

The main thing I want to do now is just enjoy my racing this time around. Like I've said, enjoyment has taken a bit of a back seat lately, with all the pressure and hassles of the World Cup, so I just want to enjoy myself.

Don't you fancy doing the British Championships again?
No, it's absolute shite. Unless you like racing a sidecar around a track every weekend for the hell of it. The interest in that has gone now, and I really couldn't be assed with all the travelling every weekend. The last time I rode the British Championships was 1994, when we finished second by a point and had a really good season, but that was at Supercup level, whereas now they are club meetings. There's no excitement in it any more for me and I just want to enjoy myself, like I said.

Finally, Dave, at what age can you see yourself retiring?
Pretty soon! Yeah, I'm starting to get knackered!
Back to Interviews Index