TT Website Interviews - Iain Duffus
| | |
| --- | --- |
| | TTwebsite.com caught up with V&M Yamahas latest recruit, Iain Duffus, after he had returned from a lengthy session at the gym. |


In this interview Iain talks frankly about his racing and as you will see, he gave as honest an interview as you are likely to see, the over-riding feeling from this is that Iain Duffus is truly a lover of road circuit racing and is going to be taken seriously as a main player when TT time comes around.


Iain, in respect of your own high standards, last year was a bit of a disaster for you on the whole but what were your best results from 2000?
Well I still managed a 3rd in the Superbike class at the Northwest, and there was a 6th at the Macau Grand Prix, these results were on our own bike so that was pretty satisfying. On the short circuit scene we managed 8th in the Superstock Championship (Against a R1 dominated field) which was also a good showing.

As everyone knows, you signed to ride for Hector Neill's Suzuki squad, but after a couple of weeks, defected to the V&M team. Can you explain the reasons behind this move?
Sure, I had reached an agreement with Hector and Phillip to contest the TT, Northwest and Ulster on the Suzuki's, but I was still looking to keep my hand in on the short circuit scene as well.

The offer of the V&M ride came along and the package was that bit better for myself as it involved running in the British Championship as well, and it simply suited my racing requirements better.

I really do feel bad for the Suzuki effort and all I can say is that I am sorry for letting Hector and Phillip down but I doubt if there is any rider out there that would turn down the package offered by Jack and Steve (V&M). It is important for a rider like myself to be riding on the domestic scene to supplement my roads efforts.

Where can we expect to see you riding in 2001?
Well the V&M ride lets me take in the Northwest and TT as well as the first four rounds on the British series. Depending how we get on early in the year will have a bearing on the rest of the short circuit season. I would also like to go back to Dundrod with the squad for the Ulster, I love racing on the Dundrod circuit (A happy hunting ground for Iain in the past).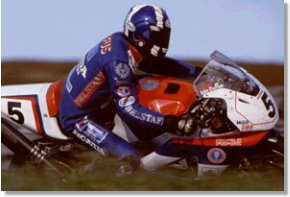 You are obviously delighted to be back with the V&M camp. How do you rate your chances at the TT on the R1?
The machinery is well capable of giving me the results I would hope for, and I still feel well capable of winning a couple more TT's.

Your team mate (DJ) will obviously be one of the men to beat, who else do you think could push you in the Superbike races?
Yeah David will be out there for sure, but there are also riders like Adrian Archibald, John Mc Guinness, Ian Lougher of course on the new Suzuki, you can also never discount riders like Shaun Harris and Jason (Griffiths). It is not just the opposition though, you need a good team behind you, you need the support and especially with the TT a little bit of luck.

You are a highly experienced and well-respected TT competitor and I would be interested to know your views on the TT itself?
I love racing on the TT circuit, I still see it as the ultimate challenge and I just can't wait to get out on that first lap every year I go. When I first started racing I saw it as the meeting of the year, it really is something special.

As a competitor though, I see the need for some big improvements, I am fortunate that I keep good backing with trade support etc, but I really do feel for the private runners who scrape by every year, I do think more could be done for the guys running a bit further back, after all there would not be much of a spectacle if the was only a dozen or so riders out there.

The financial side is poor for them, perhaps the organizers could at least get them a ferry deal or pay them a basic expenses payment, so at least they can afford to run with new tyre etc, instead of them having to cut corners with the preparation side of things.

Are there any changes you would like to see to the event be it in the organisation or anything else?

The organizers could I am sure attract some of the big teams, from what I gather it is the sheer expense of running bikes at the TT that are the main problem, for instance a bike is basically knackered after the TT and needs totally re-built, and I mean everything they really take a pounding.
This expense is an additional one to just getting all the personnel over for two weeks.

This year's event will be without the late great Joey Dunlop of course. Tell me your thoughts on Joey and what his passing means to the sport?
(Pause) I still feel that Joey is not gone at times; you could just never imagine him not racing though. It really is a sad loss for motorcycle racing. I was fortunate to be teamed with Joey a few years back on the V&M Hondas, I had heard that he had went to Jack after the 600 race and had said he had learnt a bit about all this late braking from me as he had followed me for a while.

That was just the measure of Joey, he had a respect for his fellow racers, and it kind of took me by surprise at the time that I was able to show him something new.

I think racing was just in his blood, you only have to look at Robert, he is still at it after a lot of setbacks and I gather his son has started racing too.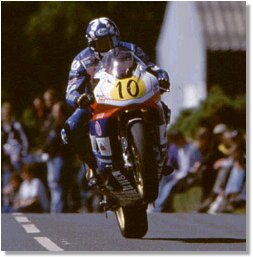 Looking past this season, and into the future, what ambitions do you have in the sport, and how long can we expect to see you riding at the TT?
I will ride for as long as I am competitive, I myself will know when I am not up to it anymore. I still like winning and racing. I think even after I have stopped racing I would still be involved with the management side or something, look at Simmo, even after racing he is now right back in there as a manager. I think that will be a possible direction to go into at some point.


After we got the nitty gritty out of the way, I was able to indulge a couple of, more off the wall questions, Iain even suggest one himself!

What would be your ultimate bike to ride around the TT?
Believe it or not it would be the bike I am on this year, simply because this bike was built around the TT course, it stops, handles and jumps straight and true, the Honda last year was all over the place, you just did not know where it would land.

What about a GP 500?
No, they are built for short circuits, the biggest problem would be getting tyres to work on them, they just destroy them.....maybe if you took a V4 power plant and stuck it in a special road based chassis, that might help. I just cannot see past the Yamaha, it has got to be the best bike on the planet right now for the TT, I will give you an example the Honda Blade was struggling to get top on the Mountain last year, the R1 was bouncing off the limiter in to at the same spot the year before! You must be near to 200mph on one of these things....it's a hell of a bike.

On the subject of riding the circuit, Iain asked me "How hard do you think a rider races at on the roads?"...I reasoned 90%.
No way 110%, I raced at 90% for years and was getting 3rds, 4ths, etc, do not listen to anyone who says they are not on the limit, they are talking bollocks. The only time you may ease off is if you have a cushion of 30 seconds or so over the Mountain, but you are still tramping on.

You can tell by the look on the faces of the riders on Glencrutchery who are going to give you problems, there are always two or three with the race face on. Riders obviously have to approach the circuit with respect as there is no room to run off like on the short circuits, but my biggest concern is not the circuit as I know it so well now, but my race fitness, it is the most punishing place to race on, and that can be a deciding factor.

I can tell you though there is no place quite like it to win on, if you win a TT no-one can take it away from you, it is special but it gives you so many emotions, I remember winning a race and about ten minutes later it was almost an anti-climax.....it was over for another year.

Well Iain we wish you all the best for this year and thanks for all your help with the article.

Nae bother, Thank you.


Interveiw by John McComisky
Back to Interviews Index