TT Website Interviews - John McGuinness
| | | |
| --- | --- | --- |
| Photo: Photocycles | | John McGuinness has been billed as the most versatile rider in the world. Success at the TT and North West 200, Daytona, 600cc and 250cc British Championships, World Championship 500's and his ability to perform on all sizes of machinery back that statement up. |

We caught up with the Morecambe rider and asked him about the coming season.



John, your 2000 Season was wrecked by a hip injury sustained in the British Championships, however you still managed to win at the North West 200 and TT before the accident. How would you rate the season compared to past seasons?
Everything was going really well. I won at Daytona, then I won three of the first six British Championship rounds I did and I won the Ken Redfearn Trophy at Scarborough and then the North West 250 race and the TT was successful enough.
I was also thirteenth at the British Grand Prix in the 500 race before I went and damaged the hip. So it wasn't a bad year really but obviously it would have been better had I not have picked up the injury.


At last years TT, I thought your third place in the F1 was one of the rides of the week considering you had only ridden the bike once before. How much pleasure did you take from that result.
It was great. The position I was in with Joey having all the pressure on him with the Aaron Slight engine and me just having James Toseland's bike with the kit engine was great.

Everyone wrote us off after the North West when we were really struggling. But we were 'sand bagging' a little bit really because we had a little bit in reserve which was the Pirelli tyres. When the Pirelli's went in the bikes were completely transformed. We went from doing 116mph laps to 120mph, so that was our trump card really.

But I enjoyed the whole fortnight. There was no pressure on me from the team and I just went out and rode the bike. Jefferies went out on lap four which probably got me on to the rostrum but you have got to get to the flag.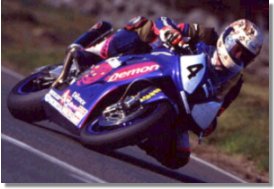 Photo: Photocycles


The performance it self was slightly overshadowed by Joey Dunlop's amazing victory. As his team mate for the TT were you expecting him to go so well on the SP1 after the trouble encountered in practice?
Yeah. We knew. As a team, like with Paul Bird and the rest of them, we all knew there was another big bike win in him. The way he had been training and he was as fit as ever last year and he knew that if he had a factory engine he could do the business, which is what he did.

On the morning of the race he had his 'race face' on and with the conditions and that it came as no surprise to me.

What your relationship like with Joey and what was it like being the team mate of such a legend?
It was weird really. I always looked up to him as a youngster and my hero is Joey Dunlop! It isn't Kevin Schwantz, it isn't Wayne Rainey or any of them; it's Joey Dunlop. The first time I went to see him in the Isle of Man in '82 I thought that he was the man straight away. I went to see him in his garage and told him that I would be standing on the rostrum with him one day and eighteen years later, I was.

The relationships were good but he would never say much. I don't know if he was just winding people up or that was what he did. It was amazing, like we were in de-briefing sessions with Neil Tuxworth and the Honda team at the TT and all the Japanese were there and the Showa technicians and they were all asking him for feedback and he didn't really have anything to say. It was unbelievable.

At the North West 200 I asked him how he did it because my bike was all over the place, because we had big problems at the North West and it was frightening me to death, and he just said 'just grit your teeth', but I had to find a way to make it better. I wasn't prepared to just grit my teeth.

It was nice to work with him but he was very private and did his own thing. He was in his own little private garage separate to us, spannering away on his 125 and 250's and the Superbike was controlled by the Japanese, but he was always hovering round seeing what was going on.

He then went on to win the Lightweight race where you held on to second until you broke down. You looked very disappointed on the video footage when you stopped at The Quarterbridge, did you think you had a chance of catching him?
Well what had happened was on the first lap I was trying fairly hard and coming down to the Creg I had a big slide from the rear which was strange. So I looked down to see if I could see anything and there was water pouring out. When we pulled into the pits I was only six seconds down, so I feel if the bike was right I could have pushed him. It would have been a grandstand finish.

He wouldn't have wanted me to beat him, but I wanted to beat him and I had my 'race-face' on and he had his 'race-face' on and we were miles ahead of anyone else.

It would be dead simple for me to say I could have beaten him, but I do reckon it could have been a real tight race, one of the closest of the week. The funny thing is, that my bike broke a cylinder head in the race, and we actually lent a set of cylinder heads to Joey in practice week. My bike broke down and his went on to win the race. But it was his day in the end, like last year it was my day.

It narked me a little bit in the interview when he said something like 'I was taking it easy' but it would have been a different story if my bike hadn't broken down I tell you.

Photo: Photocycles


You'll have plenty of chances in the future though.
Yeah, and he rode great like didn't he?

Yeah.

However, the next race day you did claimed victory, you're second, in the Singles Race. How satisfying was that win?
Brilliant. It was an effortless sort of a race. I just concentrated on the start and getting away and tried to catch Griffiths and Barton and these guys. But by Ballaugh on the first lap I had caught Steve Linsdell, and he's no mug on one of them Singles, so I though I must be going alright and then I got my signal which said plus twelve or something. Then I got to see Jason on the Mountain, so I knew that if I could just keep him in sight I would be OK.

The only moment was at the pit stop when I forgot to switch the bastard back on. We had been practicing all week because I was really struggling to start it in practice. I knew I could ride the bike, but I thought that if I messed up the start or in the pits, I'd be in trouble.

However on the day before the race, I got it off to a fine art and was confident, but in the pits in the race, I forgot to turn the kill switch back off and it wouldn't go (laughs).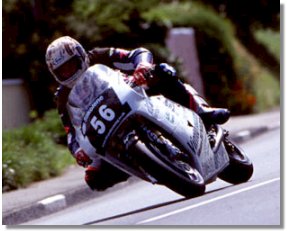 Photo: Photocycles


So for this season you are moving from 250cc British Championship competition to the 600cc Supersport class. What are your views on this prospect?
A I always had a bit of a mental block with 600s. I always thought they were horrible, smelly road bikes with no interest in anything else other than my 250. But with what happened with Jim Moodie at the TT, I ended up being offered a ride at Snetterton on a test day and I went under the lap record.

Then I was offered the bike on a one-race basis for Snetterton and I went out in qualifying and qualified on the front row. But on the same day I crashed the 250 and damaged my hand and couldn't ride the 600.

However they offered me the bike again at Silverstone and I finished seventh in the race, which I was reasonably happy with. So I must have done enough to get the offer for this year, and in my mind now I know that I can do it. The new bikes are good and I'm looking forward to it.

And outside of the British Championship, where else can we expect to see you riding in 2001?
Well I'll be at the North West, all fourteen rounds of the British Championship and I've got the option to ride at Scarborough. I like it there and I like the organisers and the team get to have a laugh and a drink you know. I'll also be doing a World Supersport round all being well.

Do you have your machinery organised for the 2001 TT yet?
Fireblades for the Formula 1 and the Senior, Birdy's 250, the 600 Castrol machine for the Junior, the Chrysalis AMDM machine for the singles race and there is an option to ride a Production bike, but I'm not over interested in riding one.

Who do you think will be your main rivals in the Superbike races at this years TT?
David Jefferies.

Is he definitely coming?
Yeah he will be. I spoke to him on Saturday and he's putting a deal together for the Isle of Man.

With V&M Racing?
I think so. But anyway, you've got Jim Moodie as well, Archibald is going to be there or there abouts and Lougher too. He's no mug Ian like. There are others too. Jason Griffiths goes well, Richard Britton, Ryan Farqhuar even. I'll tell you someone who goes well there; Alan Bennalick, but I think he smashed himself up.

You have said that you will be riding a Honda Fireblade at the TT this year. After the claims by other riders that they were not competitive against the R1 Yamahas, how do you think the machines will compare this year?
I think it's going to be competitive and we'll give the guys a run. I don't want to be riding round there for fourth place or something. They will give me the right package and I don't see David Jefferies as a better rider than me so I want to be challenging for the win.

The TT as we know has been in for quite a bit of stick of late. What are your views on the future of the event?
Well I'm glad they have got the date thing sorted out. I think they have done the best thing and there is an extra £100,000 in the pot. £20,000 per win is what it should be. I mean the prize money has been stagnant for some years now and I think the 250 race money has gone down.

But I think it's definitely going to survive. Believe this or not, I was reading a clip yesterday in a pub near where Steve Tonkin lives. Now he won 1981 something or other race and the clip said 'The TT will die in five years' (laughs). So it shows you what a load of bollocks that was.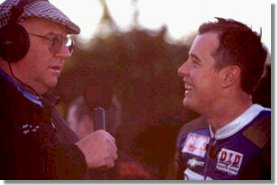 Photo: Photocycles


Looking into the future, what is your ultimate ambition, and how long can we expect to see you racing at the TT?
As long as I'm enjoying it, which I do at the moment. I have no intentions of stopping but if you get a factory Superbike ride or something you have to go and do it.

Well it's been great to talk to you and best of luck for the year.
Alright Chief.



---
Back to Interviews Index