TT Website Interviews - Richard Britton
| | |
| --- | --- |
| | Richard Britton from Enniskillen in Northern Ireland has proved beyond any doubt that he is one of Irelands top current Road Racers. He tasted success on the International stage last year when he beat Jim Moodie in the Production Race at the North West 200. |

Now he is ready to prove himself at the TT after a couple of 'nearly years'. We spoke to the thirty year old rider from his home in Enniskillen.


Richard, last year was a good one for you, were you pleased with how it went?
Yeah I was. We started off at Nutt's Corner where I had a couple of good results, before dumping it in the last race. It wasn't really my fault but I ended up dislocating my shoulder.

We had a couple of other good results on the circuits before Cookstown came along. It was a wet old day there, but I got a win in the Lambert and Butler race, a second in the Regal and a second in the Grand Final a second or so behind Archie.

I was looking forward to getting out on the big bike at the North West, but as soon as I went out on it, she blew oil out everywhere. We changed a few things on it but with no Thursday Practice, we only got time to try it on the warm up lap for the race, and it did it again so we didn't ride it.

I enjoyed the 250 race. I was in a good wee scrap with Gary Dynes, Stephen Thompson and Neil Richardson. My bike was a bit slower than theirs on the straights and I'm a wee bit heavy for it anyway (laughs) but I was managing to hold onto them. It's only a 94 bike but it was going well.

I won the Production Race of course…

We'll talk about that in a minute…
Yeah, and then in the 600 race I ended up eighth. The thing was dog slow. I don't know what happened to it, I was revving the bollocks off it and it was going nowhere.

After the TT you went on to win the Regal 600 Championship and finish third in the Lambert and Butler Championship. So a good season overall?
Yeah. I was pleased to finish third in the Lambert and Butler Championship because I only had a big bike for two rounds at Bishopscourt and the Mid Antrim and I was delighted to re-claim the Regal Championship. The big thing I suppose was getting through the season without any serious injury.

The North West 200 win was obviously the high point. That win must have meant a lot to you personally and your career?
Well after the first lap, when I was still up with them, I thought 'We could be in here' because the bike was going good, so I thought a finish on the rostrum could be on. I was looking round and I could see Jefferies up my arse, then Duffus up my arse then Moodie and I was thinking 'What am I doing here' because to be up with these boys was something else.

Then we were coming into the Metropole and I could see Duffus getting out of shape and I could feel my own bike just starting to do it but mine stopped. Dave started to tip it in and then bang, Duffus hit him and they both gone and I was saying 'Thank you very much boys!' (laughs).

Up the Coast Road, I knew that if Jim was going to pass me anywhere he would do it at the first chicane and he did it on the second to last lap so I knew where I had to hold him off. He was pulling a second or so on me round University and the Roundabout, because I think their footrests were higher than mine and they had good ground clearance. I was grinding the foot peg into the deck and I was thinking' Shit!'

But then on the straights, the R1 was so quick I was catching him up again. I out braked him into Magrabouhy and then into the Juniper Hill Chicane I changed my line and kept into the left and braked really late. If they were going to try and pass me there they would have taken me out.

It was a real good tight race the whole way and I would say it was the highlight of my whole career.

You had a fairly good TT with the best result being the 4th place in the Production Race. Were you happy with how the fortnight went?
Yeah it was all right. In the Formula One I would have like to have been able to change the back tyre like Jefferies because by the end it was knackered. I was dicing on time with Cap Davies and then I caught James Courtney on the road, so I thought I would just follow him up the Mountain because I get a bit lost up there and I know he was injured but he's been round there at 122mph or something.

I came to Parliament Square on the last lap, flicked in, and away she went. I couldn't believe it, he back tyre just slid clean out. I wanted to then get up, but three medics came and grabbed me. I was saying 'Get the f**K off me' because I wanted to get back on the bike.

They held me down and put a collar on me, and then I couldn't breath (laughs) because they pulled it so tight. There was nothing wrong with me. I was wiggling my left leg and then my right leg, and saying 'look there's nothing wrong with me'. The only thing that was soar was my elbow. So anyway, they let me get up and everyone was clapping and cheering (laughs) and they then tried to put me in the Helicopter! I was saying 'I've only a bruised elbow, what do I need to get in there for?' But I got in anyway and watched the boys going over the Mountain. I've always wanted a spin in a helicopter but not like that.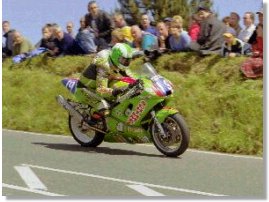 But after that the week got a bit better didn't it?
Yeah, I had a good fourth in the Proddy race. I had never raced the TT in weather as bad as that. The back shock was too hard and was sliding about a bit. I think Jefferies has a softer one in like, and we know how well he was going.

I heard you being interviewed on the radio about your 250 race. I believe that was a bit of an adventure?
Oh it was an adventure alright (laughs). Derek Young prepared the bike and it was 100% spot on. On the first lap at the top of Bray Hill I couldn't see, and my visor was starting to get fogged up so I ripped off a tear off. Then on the way into Brandish the same thing was happening and I was thinking 'Jesus Christ, what's up with this thing?' so I pulled another tear off. Then I noticed that there was petrol coming up from the fuel pipe, swirling up straight into my visor. I had no tear offs left by this time, so I had to do two laps with virtually no vision.

I got to the pits and changed my visor and thought 'right, I'm really going to have a go at this now'. So I was flat out the whole way up to Sulby. When I was sitting up on the brakes for Sulby Bridge I glanced at the temperature gauge and it was up to 80 degrees. 'Shit, what's wrong now?' In through Ginger Hall, towards Ramsey and it was up to 90 degrees. 'Jesus Christ, It's going to seize' (laughs). It's only supposed to run at 54 degrees!

I got to Ramsey and it was still going, and I knew I was going to need water. I thought the guys up in the marshalling caravan on the Mountain would have water so the first one I came to I pulled up. I actually overshot, and I was shouting to them 'water, water, water' (laughs) and this lassie comes running over to me with one of those gallons of water you get. She was lashing it in and I was looking down at it and I could see one of the Jubilee Clips had broke at the bottom so it was slowly letting the water out. She filled it up and away we went again.

I reckon if we hadn't have had any problems, I would have ended up about eighth. The bloody Jubilee Clip snapped in half! That's the thing with the TT; there is always something that you can't account for happening.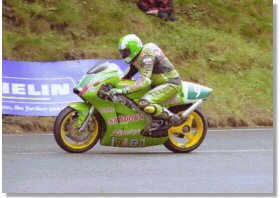 Just after the TT, you swapped teams and joined Patsy O'Kane's outfit. Are you able to tell me why that came about?
Well after the TT with the 400 thing with McMullan, which was nothing to do with the team. Geoff had Gary Jess's 600 and Gary was my team mate at the time, but Geoff said I'll run the 400 in your colours as well in return for using your 600. Alan (Gregg) was happy enough with that, but when the shit hit the fan with Geoff, Alan went underground, which he shouldn't have and he knows that now. That pissed me off, because I didn't see him for two days and we had other races coming up.

He always did the fuel for me but because he wasn't there, we had this other guy in who had never done it before. He didn't have a clue and he was so nervous. He was to do the visor, and he sort of panicked a bit, but Archie had just been and gone, so Davy Wood ran down and did mine and away we went.

Then Mr Beacon, who owned the Production bike, wouldn't talk to me about riding the bike at Dundrod the following weekend. He was saying 'there's a time and a place to talk about this' but I was going home on the Sunday and practice for Dundrod was the following Friday, so I needed to know, because it would have to be prepared.

Then the following week, he rang and told Alan that he didn't want my dad helping me on the bike, he wanted this guy Steven to do it who lived about 110 miles away. All it needed was a new set of plugs in it, and we could do it ourselves, but he didn't want to know.

So that was that, and then Patsy came in with a 600 the following week and the R1 as well. Patsy comes to the races, asks you how you are doing, if you need anything, and then he's away off to watch the races. He's never getting under your feet and let's you do what you want to do. He's great like that.

You must be looking forward to the season ahead. Which events are you planning to take in at present?
There is talk about us doing a couple of British Production class races, but we will only be able to do three I think because they all clash with something at home. I'm going to send the forms off, so then if I want to do some I can.

Other than that I'll be doing the TT, North West and Ulster, and all the Irish Road Races and Short Circuits.

And can you tell me about any of the machinery that you will have to use this season?
I have an R1 Production bike, a big R1 for the Lambert and Butler Championship and then I have a tuned 600 and a Regal 600. I would also like a good 400 for the TT but I don't know if I will. I would like a Yamaha however I could get a Honda in the morning if I wanted which is legal! (laughs).

Changing the subject slightly I would like to ask you your views on the TT. The event has been in for a lot of criticism lately regarding the quality of the entry etc. What are your views on the subject?
The only thing I hate about the TT is getting there and getting back with the boats. We have to go from Larne to Stranrare then to Heysham and over that way.

I could travel to Holland and back for cheaper than it costs to get to the TT. And then if you don't get away on the Sunday you are stuck then till half way through the following week.

You can't wait to get to the TT but at the end you just want to get back, that's why we call it Devil's Island (laughs). That's what me and Scratch (Adrian Archibald) call it.

Road Racing in general is also having problems, after the awful events of last year. What are your views on the future of Road Racing?
I would say it would probably carry on, but I don't know. The tobacco company have put a lot of money in again this year and I can never see anything like the North West ever disappearing.

I would say it will go on for a few years yet like, and I would say I would always be there unless something better happens.

Joey's passing was obviously hard to take in for everyone. As someone that knew him and raced with him, what effect did it have on you?
I was just dumbfounded when I found out. He was the last person that I ever thought would get killed. Someone rang me and told me and I told them to stop talking rubbish and that saying something like that wasn't funny. So I rang Archie and he told me that it was right.

I was only just getting to know him after last year when he borrowed my tuned engine whilst I was injured. At the TT after the prize giving I went over to him and there was a load of us there. He went and ordered six double brandy's, so I said 'where's the mixer?' and he gives it 'there's no mixer'. I said 'what is it?' and he says 'Brandy' 'But I don't drink Brandy' I say to him but he goes your drinking it.

I sat for about ten minutes looking at it. I was hung over from the night before still and I didn't need any more drink. Joey had to leave but he wouldn't go until I'd drunk it, so I heaved it back and on his way he went laughing.

He was a character on his own all right. I think he'll be missed at the TT for sure.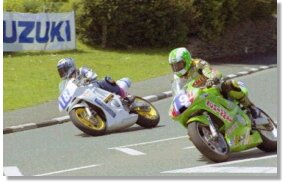 Talking of relationships with other riders, you and Adrian Archibald are archrivals on the track but seem very good friends off the track as well. Is that the case?
Oh it's100%. We get on great. He laughs if I win, and I laugh if he wins and we know and trust each other so well. I know he's not going to do something stupid on the track and Melanie (Adrian's wife) knows when she sees us out there that there won't be any problems but if someone else is in amongst us she gets worried.

Off the bike we have a great laugh. In 1998 at the TT when it was always raining, when we knew it was off I would say to him 'come on then Dave, let's go down to the Beer shop' (laughs).

Why do you call him Dave?
(laughs) I can't really remember. I think it might have started when we went over to John Harris or something, we would be like 'Alright Dave' and he calls me Steve and he would say 'Yeah alright Steve ya cheating bastard' (in a cockney accent).

Next time you speak to him tell him Steve was asking after him (laughs). I'll have to ask him why we started it. It's just a bit of craic.

What are your long-term ambitions and can we expect to see you returning to the TT in the future?
Well, I would like to have a crack at a British Championship, but you would have to give up your job and you would have to live over there. It would be nice but it probably won't happen.

I would like to do a Bol Dor or something and I'll be over at Macau at some stage I hope. I'll be back at the TT and I would love to win of course but I would be happy with a rostrum.

Well it was great speaking to you Richard. Best of luck for the season and I'll speak to you soon?
Aye no problem. Thanks a lot.
Back to Interviews Index