Welcome to the new Classic section at ttwebsite.com. We have pooled the resources of photo archives and the real, knowledgeable enthusiasts to provide you with news and information of riders and machines of yesteryear.
Do you recognise this rider?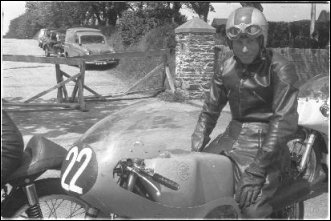 Can anyone recognise the rider astride Dr Joe Ehrlich's EMC waiting to start a practice session for the 1962 Ultra Lightweight TT. The three riders programmed were Mike Hailwood, Paddy Driver and Rex Avery. Both Mike and Paddy retired from the race, Rex finished 6th. The rider shown is none of those three - can anyone give us a name ?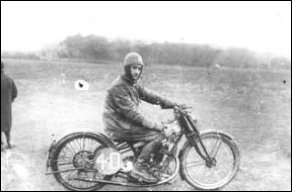 Stanley Woods poses with his first TT mount,
the 1922 Junior Cotton; he finished fifth. (1922 33FF)


This will not just be a list of riders and machines, what we need is your input - what would you like to see in the Classic section?


Suggestions so far include:

A picTTure captures a moment in time
your favourite TT memory which we hope to provide a suitable illustration.

Classic Helpline
Looking for information on machines and riders, let the ttwebsite fans help.

Under the Chequered Flag
a short tribute to those riders no longer with us.

Now it can be told
was that tank really too big, etc., etc.


A Classic section would be nothing without photographs; we are fortunate to have available to us something like half a million images, ranging from 1907 (and earlier!) to 2000 TT and MGP 1923 to date.
.

FoTTofinders Bikesport Archives
include many action and paddock shots from 1907, ideal to assist restorations, machine history etc.


A few names that will be appearing in the Classic section.

Peter Kneale - "The Voice of the TT". Peter's unquenching enthusiasm for the Island races make him a natural for the Classic section.

Elwyn Roberts - with a name like that, where could he live but in an unpronounceable hamlet half way up a mountain in Wales! Elwyn's has for many years corresponded with the riders of yore, as well as today's aces.

Bill Snelling - Billy Bug the Data Demon - has nearly half a million images catalogued on his photo database (with that lot nearly complete, he can come out of the office and re-start a life!). Bill is an ex MGP competitor and award winner in the MCC long-distance trials, mainly on Velocette. Publisher and author of many motorcycling books including Honda the TT Winning Years and History of the Manx GP (both co-written with Peter Kneale)


This list is by no means complete, we are contacting other specialists who have indicated they would like to assist in the ttwebsite Classic section.


To whet your appetite, these are a small selection of the photographs available to us. (Please note - all photographs on ttwebsite.com are copyright, any of these pictures found on other websites without approval will incur a payment of £100 per day, per picture, to be paid payable to the Joey Dunlop Injured Riders Fund , be warned!) We would be happy to discuss use of pictures for commercial and private websites, contact us for details.



Copies of all photographs shown can be purchased, from FoTTofinders.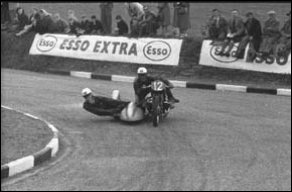 Walter Schneider and Hans Strauss exit Begoade Corner on their BMW,
1954 Sidecar TT, held on the Clypse Course (1954 TV 4a FF)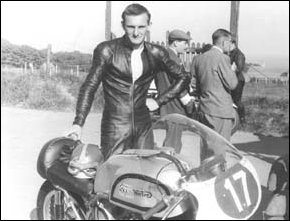 Mike Hailwood with his 350 Norton at the 1959 TT;
he retired from the race (picture ref 1959 TA20 FF)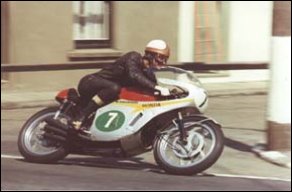 Can you hear the revs scream! Mike Hailwood leaves Parliament Square
in the 1967 Lightweight TT (1967 30/26 IP)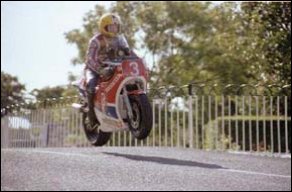 Joey the cameraman. Joey Dunlop flies at Ballaugh Bridge during the
1983 Manx Grand Prix, whilst filming for V-4 Victory (1983 MGP 44 FF)


Please let us know what you would like to see in the Classic section. If you have any ideas or thoughts about who to appear here, please contact us .